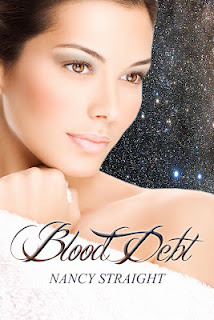 Her whole life, it had just been the two of them. Before her mother's last breath, she gave Camille the information she had craved her entire life: the identity of her father. Daring to contact him, Camille was welcomed by an entire family she never knew existed. But nothing comes without a price, as she discovers when her family claims a legendary heritage tracing back to a Centaur touched by Zeus.
As she learns the secrets of her Centaur bloodline, she is drawn into a forbidden love with Drake. Her family acknowledges her life may be the blood debt required to pay for her mother's transgressions. The same person who once held her mother captive, and forced her into decades of hiding, now controls Camille. Her only chance is to seek a piece of her mother's past that will win her freedom and the life she desperately desires.
My Review:
Camille's mother has just passed away and she has finally found out who her father is. Unsure what to do she calls him and that is when her life changes forever. Her father is not only loaded with money he is a Centaur and Cami is unsure what that all means. While learning what life as a centaur means, she finds out that there is a blood Debt out on her that she is going to do everything in her power to make sure doesn't happen.
I absolutely loved this story! Cami is such a strong willed girl and is surround by a bunch of men that love her instantly. Life as a centaur is hard and there are so many rules; most of which Cami want's nothing to do with. Nancy does a great job of describing the characters and showing their personalities. I absolutely loved Daniel and his quirkiness (wish he was my BFF lol) but his love for Cami shows through with everything he does for her (his voice of reason, caution over the whole situation).
If you looking fora book that is about mythology, funny and on the edge of your seat then this is the one for you!!