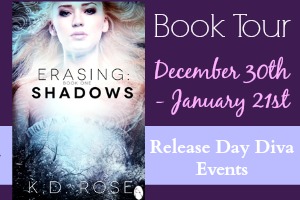 ---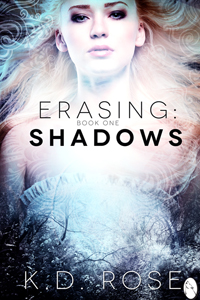 What if to save the ones you love, you had to unlock the key to a different reality? Generations of mystery smash together when a seemingly traditional family must shatter their illusions of normality to confront themselves and their friends, leaving no possibility unexplored in order to rescue—well, who exactly? Watch the Ross family, the High Five Gang, and multiple generations dig into an innovative explosion of imagination where they must confront numerous realities, real-world danger, and worst of all—their own teenage hormones! In a place where nothing is as it seems and shocks are around every corner, even the people you thought you knew may find themselves strangers in this moving and provocative reality-bender. With breathless pacing and psychological intrigue, Erasing: Shadows and the High Five Gang will keep you guessing until the very end.
Buy on
---
Follow K.D. Rose:
As H.K Sterling
Follow the tour
Enter the Giveaway
a Rafflecopter giveaway
My Review:
Little Brandon starts disappearing right before his mothers eyes which then starts a whole turn of events. Brandon's parents are "travelers" who can travel to the astral world and have since they were young. They go there to find him only to have his mom stay there. It is now up to Michael (his dad) to bring her back.
I truly enjoyed this story although it reminded me so much of "Insidious" which made me laugh a little :) I loved how Brandon kept "popping" up in the astral world, he was a little cutie pie. The characters in the story were well described and each had their purpose to what needed to be done. I enjoyed Michael's moms character and her role in the whole scheme of things.